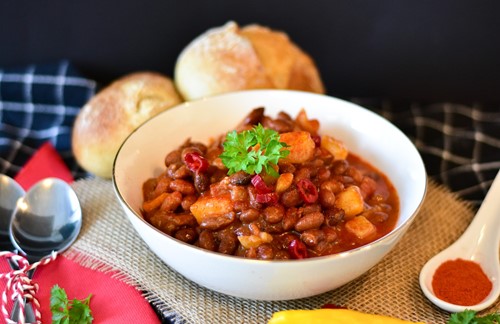 Chili is a classic dish that's easy to make in large quantities. Unfortunately, sometimes that turns into a large quantity of leftovers. Rather than eat the same chili every night for a week, try adding your leftover chili to other recipes to create new and exciting dishes. Here are some of the simplest and tastiest ways to use up your leftover chili:
Chili Dogs
You don't need a BBQ or picnic as an excuse to eat hot dogs. By adding a bit of chili and other garnish, you can instantly dress up a sausage in a bun and use some of your leftovers at the same time. The most popular way to serve chili dogs is with a sprinkle of cheddar cheese on top. Adding leftover veggie chili to a grilled tofu dog is a delicious vegetarian-friendly alternative with all the same flavor and fun.
Chili Mac
What could be better comfort food than two comfort foods combined? For a simple and hearty meal, add some leftover chili to your macaroni and cheese. Whether you cook it from a box or completely from scratch, creamy mac and cheese makes a perfect companion to savory chili. Add a little extra spice with some chopped jalapenos or your favorite hot sauce.
Chili & Rice
Plain rice is another common leftover food item. Conveniently, it pairs very well with leftover chili. The tried-and-true combination of beans and rice is especially powerful when you mix up your leftover rice with chili and add a garnish of your choice. This makes a cozy, satisfying meal with the bonus of using two leftover dishes in one.
Chili Stuffed Peppers
If you love stuffed peppers, you'll love filling them with your leftover chili. Instead of spending the time and effort to make a brand new filling for your next batch of peppers, just use some chili and top with the cheese of your choice. The flavors and texture of the chili work perfectly as a filling whether you grill or bake your bell peppers.
Chili Taco Salad
Taco salad is a highly customizable dish that you can also use your leftover chili for. Instead of cooking a fresh batch of meat, beans or veggies, just add a hefty dollop of chili to your taco salad and enjoy instant flavor. You can use whatever type of fresh greens and veggies you'd like and your choice of chips or container. Top with your favorite garnish like fresh pico de gallo or some cool sour cream and you have an excellent low-effort meal.
Chili itself is a versatile dish, which makes it even better to combine with other foods. No matter what you like in your chili, you can create new favorites by adding your leftovers to a variety of ingredients and meals.